Melissa Sorge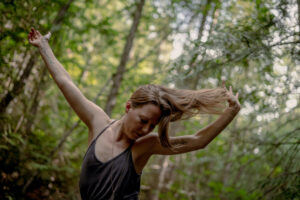 Melissa Sorge, C.H.N.C
Melissa began her post-secondary dance education with York University in Toronto, and continued her education with Modus Operandi in Vancouver. While living in Vancouver she performed in various dance and art festivals as well as for the closing ceremonies of the 2010 Winter Olympics alongside Michael Bublé. Melissa was a co-creator of actualPLAY, a contemporary dance collective that focused on bringing dancers from the community together to improvise, collaborate and PLAY.
Wanting to expand her knowledge about the body, Melissa obtained her diploma in holistic nutrition. She graduated from The Canadian School of Natural Nutrition in 2014 with a diploma in Holistic Nutrition. She specializes in nutrition education for dancers as well as nutritional guidance for women pre-conception through to post-pregnancy and children's health. 
Being called to focus more on spiritual health, Melissa began her studies of meditation and intuitive healing with award winning medium Els Basten in 2016. Her ongoing learning with Els and her own journey with her higher self has created an entirely new way for Melissa to live life that is expansive and connected, allowing her the opportunity to guide others to transform their lives in profound ways. Melissa now leads meditation/healing circles for girls and women in her community.
Most recently Melissa has worked with Vancouver artist Jennifer McLeish-Lewis, created movement for "The Collective Body" (a transdisciplinary audio/visual project) with Inner Fish Performance Co. which premiered at the 2021 Living Things Festival in Kelowna and was showcased at the Luna Festival in Revelstoke and Mile Zero Dance in Edmonton. Melissa spent the spring of 2021 working as a Community Dance Connector for the Okanagan with Made in BC – Dance on Tour and the Rotary Centre for the Arts and was a part of the project "Process Process" with Tara Cheyenne Performance. Her holistically focused contemporary dance company "The Body Project" was given two artistic residencies, the first being with theresponse dance company in Vancouver which focused on movement exploration. Their second residency was with The Rotary Centre for the Arts which gave her the opportunity to engage both professional dancers, students and community members in contemporary dance. The Body Project also premiered their dance film "IN/2"at the Big Muddy Dance Co. Screendance Festival in the United States the fall of 2021. Melissa is currently creating two new dance films to be premiered in the fall of 2022.
Melissa's work as a dance educator for the past 15 years has allowed her to be recognized as an important role model and mentor for girls and young women. Her role as a mother has allowed her to understand children and their needs to an even greater extent. As an intuitive and empath she understands dancers on a deep level and knows how to guide them with the utmost care on physical, emotional and artistic levels.
To Melissa, dance is about so much more than just learning the steps. It is a place where students can learn to express their deepest self through movement, having a safe space to share who they are without judgement. It is a place to come home to over and over again. When a dancer is brought up in the right learning environment they will learn artistry, discipline, true health for their body, mind and spirit and will have a place to always call home.
Melissa is committed to educating dancers how to respect themselves, and align their entire being in total health and love, supporting dancers through their creative process and life journey.