Registration
NOTE: Early July Registration TBA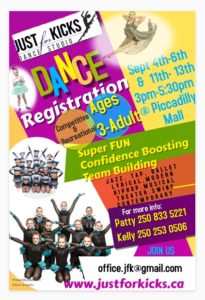 SALMON ARM  2018 September
4th – 6th  
                     & 11th -13th
3:00PM- 5:30PM Piccadilly Place Mall, Salmon Arm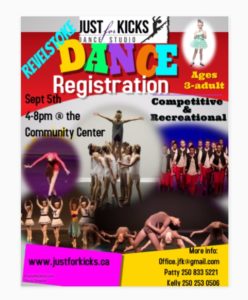 REVELSTOKE 2018  We will be at the Community Centre Sign-up day in Revelstoke Wednesday sept 5th 4-8pm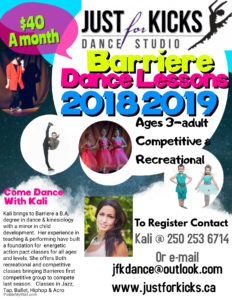 BARRIERE 2018 Contact Kali 250 253 6714 or e-mail jfkdance@outlook.com 

We do not provide online registration because we find it important to discuss and place students in the proper classes. Many studios do an audition process, we do not.  To help speed up the registration process this year, competitive, pre competitive and advancing recreational dancers are invited to join us for an open discussion on placement, levels and to answer your questions. Salmon will be hosting theirs Monday Aug 20th starting at 5:30pm. Please join us when you can as we will be there late.
Revelstoke will be Wednesday Aug 28th  starting at 5:30pm. 
You may choose to download the registration forms and have them filled out prior to arriving on sign-up days. Please note that Kelly will confirm final  fees and taxes in person.